AutoCenters Nissan Service Center
AutoCenters Nissan Service Center: More than Just Maintenance
You already know routine maintenance is the key to longevity and performance in your vehicle. Regularly scheduled appointments, such as oil changes, are essential to keeping any vehicle, including your Nissan, running great for a long time. At the AutoCenters Nissan service center in Herculaneum, MO we aim to make it easy, efficient, and affordable to get your vehicle the service it needs.
Whether you have a Nissan Rogue SUV, a Nissan Altima sedan, or a Nissan Titan pickup truck, when you need expert service and topnotch Nissan maintenance, you want the pros in our in-house service center on your side. Our technicians are trained and certified by Nissan to be your best choice for maintenance, and we aim to provide you, and your vehicle, with the care and service you deserve.
Call us today at 866-363-2432
Convenience and Expertise at AutoCenters Nissan
When St. Louis, MO metro-region drivers choose to have their Nissan service performed at our McNutt Street dealership, they know they're getting the best care their vehicle needs. Not only is our team staffed with Nissan pros who know the intricacies of Nissan engineering, we also only use genuine manufacturer parts, or manufacturer-recommended parts, in all our appointments.
This level of attention and professionalism means you know your vehicle is only getting exactly what it needs to run great. After-market parts could break down and need repair, but our parts are produced or recommended by the same people who make your vehicle.
You can count on our service center to do the job right the first time, and with the right equipment, and you can also count on us helping you save money while we do it. We offer regular, periodic service specials and coupon on our website, which help you save money on your important appointments, and we also promise to price match quotes and services you get from our competitors.
Services Available at AutoCenters Nissan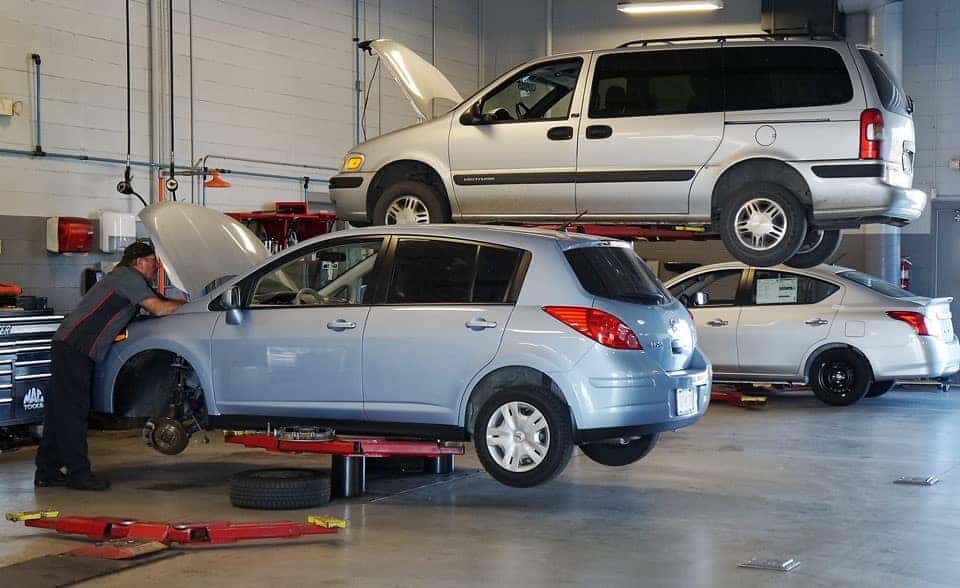 Routine oil changes are one thing, but if you're wondering if our dealership service center can handle your major repairs and appointments, wonder no more. We can handle most things you throw at us, including:
Tire rotations
Mounting and balancing tires
Windshield wiper replacements
Heat, defrost, and air conditioning checkups and tune ups
Transmission service
Plus, much more. Reach out to our service center for a comprehensive list of the services we provide or stop by to visit us in person in Herculaneum, MO.
Benefits of Service at AutoCenters Nissan
In addition to expert, professional maintenance that saves you money and hassle, we also strive to go above and beyond what other service centers offer with special touches that make visiting us more enjoyable. Our mix of service and pampering includes:
A clean and comfortable waiting area
Complimentary Wi-Fi and a Wi-Fi equipped work area with desks
Available snacks and beverages
Large, flat-screen TV for entertainment while you wait
Children's play area with separate flat-screen TV, to keep the little ones engaged
Schedule an Appointment with AutoCenters Nissan Online
Use our convenient, online scheduling program to choose the perfect date and time to bring your vehicle in for service. We work with your busy to-do list to make it easier than ever to squeeze in time for that vital oil change.
Best of all, you don't have to drive a Nissan to take advantage of everything listed on this page. Bring in your vehicle of any make, model, or year, and let AutoCenters Nissan and our team of service professionals help you get the most out of your automotive investment soon.