Lifetime Warranty and 30 Day Return Near St. Louis, MO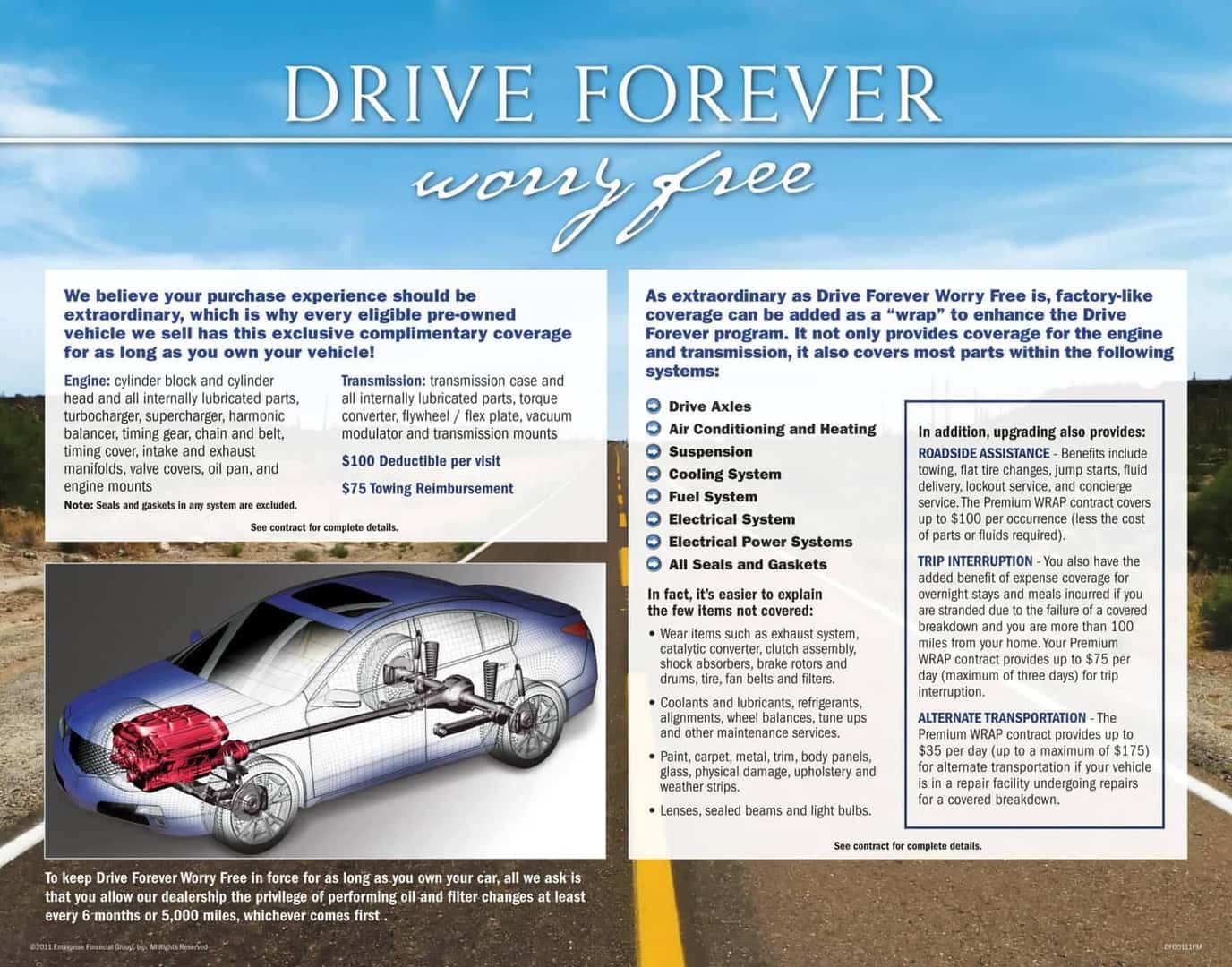 Our dealership strives to satisfy customers throughout the entire buying process, even after you sign the papers. AutoCenters Nissan provides a Complimentary Lifetime Powertrain Warranty for new and pre-owned vehicles.
Complimentary Lifetime Powertrain Warranty
Included on all eligible Pre-Owned Vehicles under 100,000 Miles, Less than 10 Years Old and/or Not Modified

3/4-ton or heavier trucks, cargo vans, diesel engines, supercharged or turbocharged engines, hybrids, EVs, lifted vehicles, exotics, & vehicles used for commerce are not eligible.

Included on ALL New Nissans except Ariya, GT-R, Z, and Leaf
Coverage begins at time of purchase and runs as long as you own the vehicle
Coverage is exclusive to AutoCenters Nissan Service Center. You need to service your vehicle with AutoCenters Nissan to take advantage of the warranty.
Covers all internally lubricated parts within the Engine and Transmission [excludes seals and gaskets]
Additional Protection/Coverage available specifically designed to "wrap around" this coverage
Risk-Free 30-Day New Car Return Promise
Shop confidently at AutoCenters Nissan with our new car return promise. Any new Nissan purchased from AutoCenters Nissan can be returned within 30 days of purchase. If you're not satisfied with your new vehicle, you can return it to us hassle-free!
Available with the purchase of a New Nissan ONLY
Excludes Dealer Trades, GTRs, Ariyas, Z, and Leafs
Customer must sign and agree to ALL terms of this policy
No charges shall be incurred by the customer unless A.) Cosmetic damage, mechanical repairs/or our refurbishing due to customer negligence. B.) Excessive mileage: We will repurchase the new Nissan back with daily mileage less than 25 miles per day. Miles in excess of 25 miles per day will be deducted from the buyback amount at the rate of $1 per mile.
Customer will be refunded the vehicle purchase price only, not included or limited to Tax, Title and License Fees, Processing Fees, Addendum Products, Trade In Equity or Trade Over Allowance.
Shopping for a new vehicle can lead to a lot of questions and uncertainty. Everyone wants to make sure they're getting a good deal and a vehicle they love. At AutoCenters Nissan, we can help. Not only can we help you shop for and take home the latest models and styles from one of the most renowned brand names in the world, but we also offer our unique and customer-focused Wiggidy Cares Warranty, a plan that offers peace of mind and quality assurance unlike any other dealership.
Perks and Benefits of Being an AutoCenters Nissan Loyalty Member
With our high-touch customer service and the impeccable care of our Loyalty Program by their side, drivers just like you from St. Louis to Oakville, MO can shop with the security of knowing that someone has their back.
The Loyalty program includes a number of unique benefits for you, including:
A Complimentary Lifetime Powertrain Warranty, which is good on select new Nissan models and select pre-owned vehicles.
Risk-Free 30-Day New Car Return, which is perfect for those times when you've chosen a vehicle that you think is the right fit, only to discover after leaving the dealership that it's not the vehicle for you and you want to consider something else from our collection instead.
Regardless of whether you're the type of St. Louis driver who prefers a brand-new vehicle with all the latest features and amenities, or you're a savvy shopper who prefers the value associated with pre-owned vehicles, the Complimentary Lifetime Powertrain Warranty is there for you.
Shop for a pre-owned car, truck, or SUV from our collection, and we promise to have your back for as long as you own the vehicle. Our Powertrain Warranty is good on any of our used vehicles with less than 100,000 miles on their odometers, less than ten years old, and with no after-market customization. Plus, it promises to have your back for many miles and years down the road.
Or, choose to invest in one of our new Nissan Rogue, Nissan Frontier, or other top-quality Nissan vehicles, and the same rules apply. We'll cover you for the lifetime of your vehicle, and we want to see you happy with your purchase for years to come.
Shop with the serenity of knowing that your dealership has your best interests at heart. Buying or leasing a new car, SUV, or truck, can be an exciting experience when you have a quality guarantee and a great warranty program by your side. Reach out to our team to learn more about the Loyalty Program and everything it can add to your St. Louis adventures and commutes. We look forward to working with you for the long haul at AutoCenters Nissan with our top-notch care and the customer service you deserve.
---
CONTENT DISCLAIMER
While every reasonable effort is made in ensuring the accuracy of the information included online, we are not responsible for any errors or omissions contained online. Ultimately it is your responsibility to ensure the information is 100% accurate with the Dealer.
PRICING DISCLAIMER
We reserve the right to change our products prices at any time without further notice. We sell our products through a number of online channels and cannot control when they are updated, therefore, we reserve the right to not accept a price listed online. Ultimately it is your responsibility to ensure the information is 100% accurate with the Dealer. Sale price reflects all dealer and manufacturer incentives, rebates and trade assistance