Best Christmas Markets in St. Louis
As the holiday shopping season begins, now is the perfect opportunity to explore the many Christmas markets and craft fairs in the St. Louis area. It's a great way to support small businesses as you shop for handcrafted, one-of-a-kind gifts made by artisans and craftspeople. The team at AutoCenters Nissan have researched some of the best locations for you to find original gifts, so go and check out the following holiday marketplace experiences:
ABOB Olde Alton Arts & Craft Fair
If you didn't get your holiday shopping started during Thanksgiving weekend, the Alton Band & Orchestra Builders offers an early December opportunity you don't want to miss. Make plans to attend the ABOB Olde Alton Arts & Craft Fair held at Alton High School in Alton, Illinois.
Meet talented artisans and craftspeople from the greater Alton community who offer unique gifts and holiday decor. The craft fair runs Saturday, Dec. 3, from 9 a.m. to 4 p.m., and admission is $3 per person. On Sunday, Dec. 4, the craft fair will be open from 10 a.m. to 3 p.m., and admission is $2 per person. Breakfast will be available beginning at 8 a.m. on Saturday and 9 a.m. on Sunday. Kids of 12 and younger get in for free. Due to space constraints, strollers aren't recommended.
All arts and craft fair proceeds benefit the Alton School District's band and orchestra program.
Location: Alton High School, 4200 Humbert Road, Alton.
Telephone: 618-474-6996 (event organizers Dave and Paula Fritz).
Das Bevo Holiday Market
Discover a holiday market wonderland inside the historic Bevo Windmill. The Das Bevo Holiday Market brings together arts and crafts from the best St. Louis makers and creators. The three-day event runs from 4 p.m. to 8 p.m. on Friday, Nov. 25, noon to 5 p.m. on Saturday, Nov. 26, and 10 a.m. to 2 p.m. on Sunday, Nov. 27. Admission is free.
The following represent some of the many vendors you'll encounter at this holiday market:
Clay by Tay.
Little Lemon Candles.
MiLouis Bridal.
Mud City Soaps.
Schmookies Dog Treats.
The Social Goods Marketplace.
We Color Out Loud.
After you've wrapped up your shopping for the day, you can stay for festive holiday drinks, food, and beer in the Bierhall, which will feature a tap takeover with Urban Chestnut.
Location: Bevo Windmill, 4749 Gravois Ave., St. Louis.
Telephone: 314-832-2251.
Frosted Holiday Market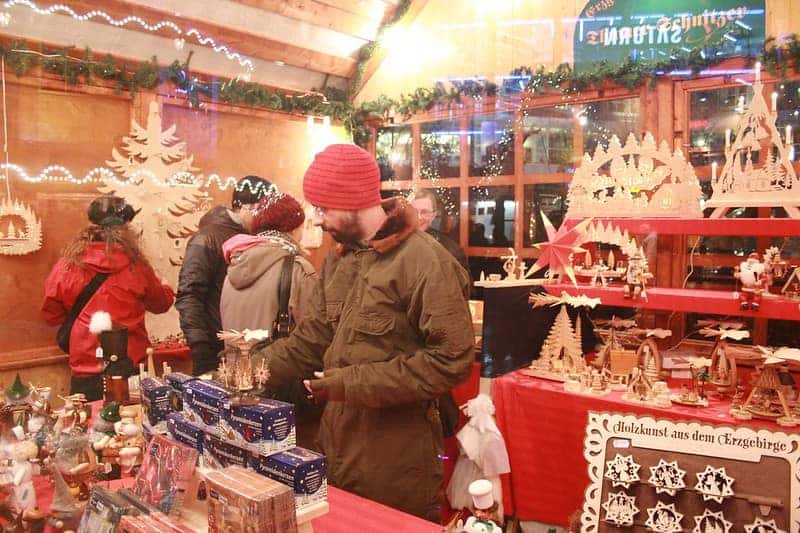 Christmas shopping by Fernando Guillen is licensed with CC BY 2.0
Holiday shopping procrastinators don't have to despair. Take the edge off your last-minute panic and support Tower Grove Park at the Frosted Holiday Market on Sunday, Dec. 19, from 11 a.m. to 4 p.m. The holiday market is a part of the full slate of activities for Frosted, a pop-up holiday cocktail experience held at the historic Piper Palm House from Dec. 16 to 23. Live entertainment and a menu of holiday-inspired cocktails make Frosted a can't-miss late December event in St. Louis.
During the Frosted Holiday Market, guests can browse artisan products and gift items from almost 20 vendors, including Green Rock Sewing, Kenyel's Hand Poured Candles, Oshun Aesthetics, the Winston & Faith Baking Co., and Zingara Gems Jewelry. Grab a bite or two from the on-site food trucks that will include Farm Truk, The Fold, and S'more Shack.
Admission to Frosted is free. Except for the family-friendly hours on Saturday and Sunday, the event is open only to adults ages 21 and older. All guests must present proof of COVID-19 vaccination or a negative COVID-19 clinical test within the previous 72 hours to enter the Piper Palm House.
Location: Tower Grove Park, 4257 Northeast Drive, St. Louis.
Telephone: 314-771-2679.
Holiday Market at Lafayette Square
Visit historic Lafayette Square in St. Louis and discover artisans and craftspeople participating in this year's Holiday Market. You'll meet talented individuals from the St. Louis community offering distinctive arts and crafts ideal for gift giving. The Holiday Market runs from noon to 6 p.m. on Saturday, Dec. 3, and from 10 a.m. to 6 p.m. on Sunday, Dec. 4. Be sure to catch the tree lighting as part of Light Up the Square festivities on Saturday, Dec. 3, at 5 p.m.
Location: Lafayette Square, St. Louis.
Merry Makers Market at the Foundry Art Centre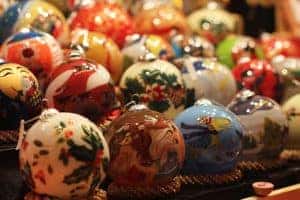 Image by TesaPhotography is licensed with Simplified Pixabay License
Come to the Foundry Art Centre in St. Charles for the Merry Makers Market. This two-day event, held Dec. 2 and 3, features regional artists, designers, makers, and creators. Guests can explore more than 40 artist and vendor booths offering handmade items for sale. You can support small businesses in St. Charles while accomplishing some holiday shopping.
On Friday, Dec. 2, the Merry Markers Market will coincide with the Foundry Art Centre's First Friday events, including the opening of the winter juried art exhibition, "8x8x8".
On Saturday, Dec. 3, the Saint Charles Christmas Tradition will entertain guests with live music during the market. Family art workshops will be available in the Baue Children's Gallery throughout the day.
The Merry Makers Market runs from 5 p.m. to 8 p.m. on Friday, Dec. 2, and 10 a.m. to 5 p.m. on Saturday, Dec. 3.
Location: Foundry Art Centre, 520 N. Main St., St. Charles.
Telephone: 636-255-0270.
Timothy Lutheran Church Weihnachtsmarkt
Inspired by traditional German Christmas markets, the Timothy Lutheran Church Weihnachtsmarkt celebrates yuletide traditions and the spirit of the holiday season. Mark your calendar for Saturday, Dec. 3, from 11 a.m. to 6 p.m. The event will take place in the church's gated parking lot.
Browse the market and you'll discover vendors offering unique gifts for every person on your list. When it's time to take a break from shopping, you can enjoy delicious German-inspired specialties, such as hot mulled cider, bratwurst, and home-brewed beer.
Location: Timothy Lutheran Church, 6704 Fyler Ave., St. Louis.
Telephone: 314-781-8673.
Get in the holiday spirit by exploring these and more holiday marketplaces in the St. Louis area this season. What did you think about our list of holiday shopping experiences? Did we overlook one of your favorites in our region? Write to us and let us know. Our staff members at AutoCenters Nissan are happy to add your suggestions to this article.