Why Should I Choose AutoCenters Nissan Near St. Louis, MO?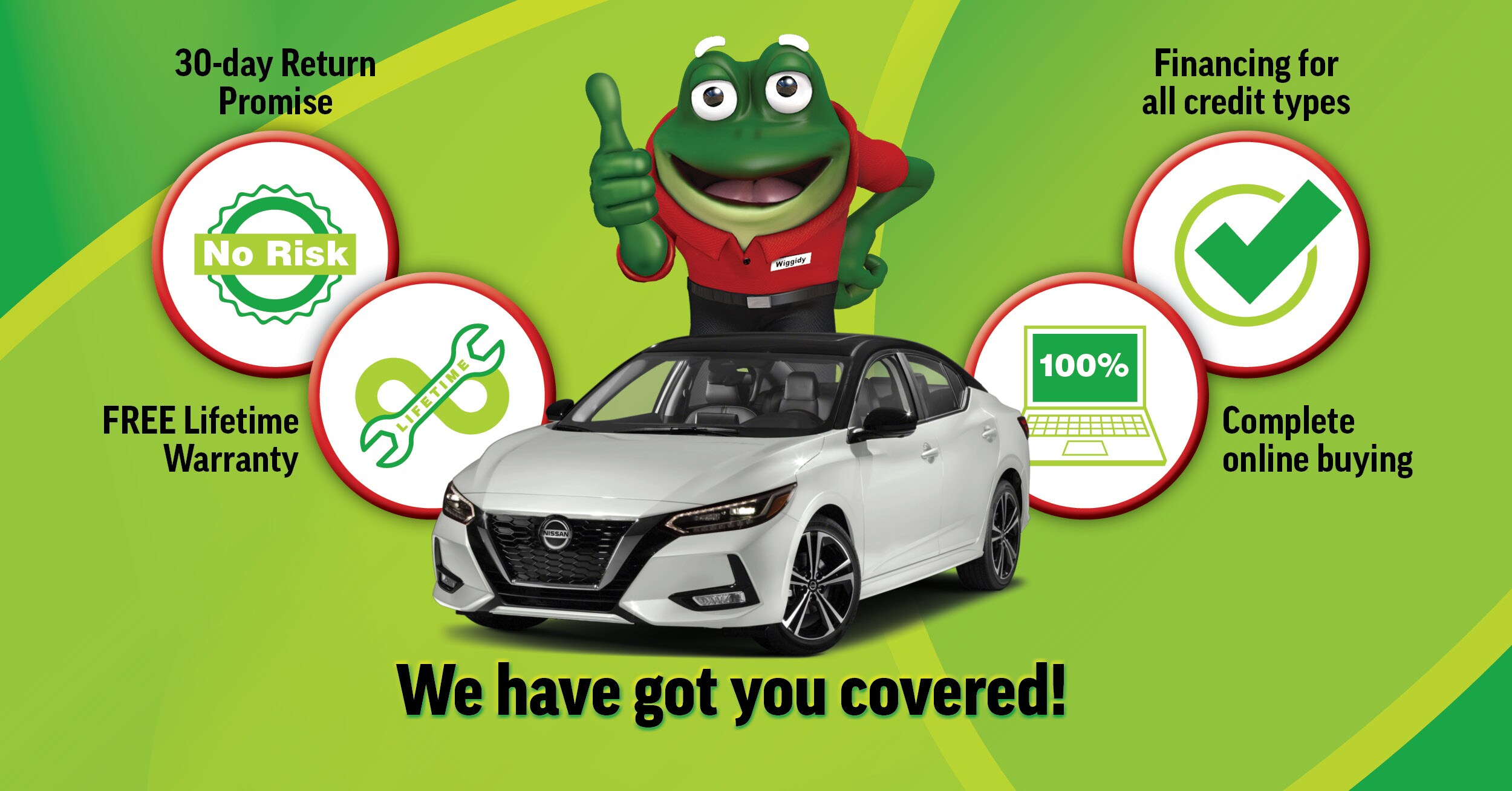 Why Should St. Louis Drivers Choose AutoCenters Nissan?
Whether you enjoy piling all the kids into your three-row SUV and heading to the St. Louis Zoo, or you like hitting the town in a sleek car with your favorite date for a night of dining out in the Central West End, a new Nissan always fits the bill. Nissan is the carmaker behind some of the most popular vehicles on road today, and AutoCenters Nissan in nearby Wood River is proud to be the local dealership of choice for these exciting vehicles.
AutoCenters Nissan is just around 25 miles from downtown St. Louis. We work to support local drivers, charities, and nonprofit initiatives in a variety of ways, and we want to work with you to make your driving dreams a reality. Depending on whether you hop on I-55 north or IL-3 north, you can quickly and easily make your way from the greater St. Louis area to our dealership just over the border.
AutoCenter Nissan's Commitment To Customer Service
As you can see from the large assortment of models and styles available, AutoCenters Nissan separates itself from other automotive dealerships in the St. Louis area with selection and variety. But that's not all that separates us from your neighborhood car lot. We focus our customer service on four main principles, which help us hone the areas of focus and provide a topnotch experience for all our customers.
We Have The Best Prices On New Nissan Models - Our Low Price Guarantee 
We remain committed to offering St. Louis drivers the best prices around on new Nissan cars, trucks, and SUVs. This includes transparent, honest pricing up front, and a rotating selection of hard-to-beat incentives and deals.
Applies to New Nissan Inventory ONLY.
Must be In Stock "like" Inventory
AutoCenters Nissan must retain the right to purchase said vehicle at same price from said dealer.
Wide Selection of Used Cars
As you can see in the evidence above, our selection of available, brand-new Nissan models is unsurpassed in the area, and we pride ourselves not just on our new model collection, but also the selection and affordability of our used car options.
Online Pre-Approval
Using our confidential, convenient, user-friendly online application, you can get pre-approved online in under 60 seconds. Streamlining the whole process and making it easier than ever to finance your new vehicle, this process can save you hours sitting in the dealership filling out paperwork.
Easy Trade-In Value Process
Trading in an older model to use the value towards your next purchase? Take advantage of our "Text My Trade-In" tool. Using details about your current ride, we'll send you an estimate of you trade-in value in just a few seconds right on your phone.
30-Day Return Promise
Available with the purchase of New Nissan ONLY
Excludes Dealer Trades, GTRs and Leafs
Customer will be refunded the vehicle purchase price only, not included or limited to Tax, Title and License Fees, Processing Fees, Addendum Products, Trade In Equity or Trade Over Allowance.
FREE Lifetime Warranty
AutoCenters Nissan offers a free Lifetime Powertrain Warranty on all new and qualified used vehicles. It's our exclusive "Wiggidy Cares Warranty"!
AutoCenters Nissan - A Dealership with a Mission
At our Wood River dealership, we strive to provide our customers with a thoughtful, courteous, expert dealership they can count on for all their automotive needs. Your entire experience with us is informed by our mission statement, which guides us through every relationship we have with St. Louis drivers.
AutoCenters Nissan will provide a different and better way to buy a Nissan with a fun, low-pressure environment. All customers will be treated with respect whether they choose to buy or not, and they will be given a value of their trade, and price for any vehicle up front. We will buy back any new Nissan we sell, for any reason within 30 days, no questions asked.
In fact, not only do we stand by our mission statement in all of our day-to-day interactions, we also follow a strict employee pledge, which promises to always have your back in everything we do:
"As an Employee of AutoCenters Nissan, I am fully committed to giving EVERY CUSTOMER, with NO EXCEPTIONS, a positive and memorable experience that exceeds their expectations. I will do at least one thing for every customer that is truly unique and unexpected.
I will treat every person, both co-workers and customers, as I would like to be treated. I understand that the manner in which I act and ethic that I display create the reality in which others view the AutoCenters family and myself."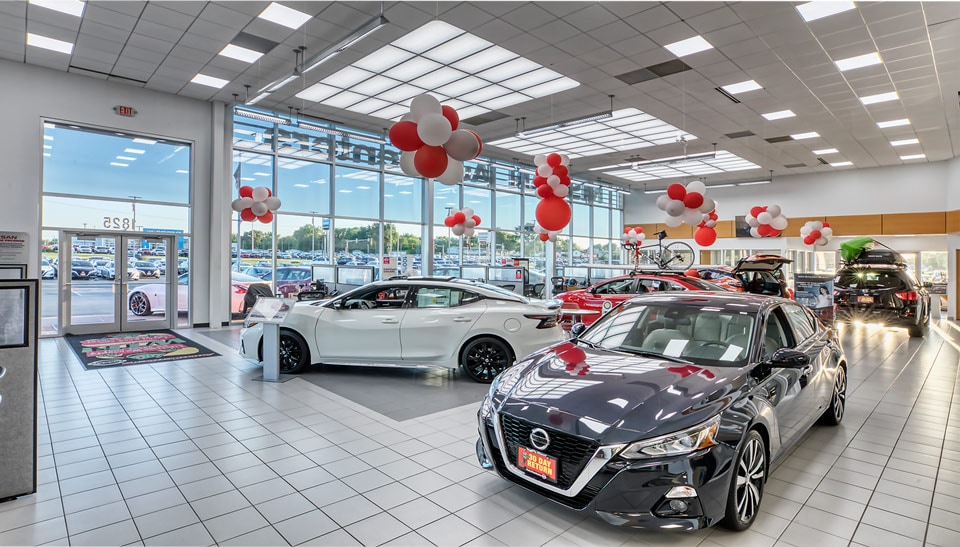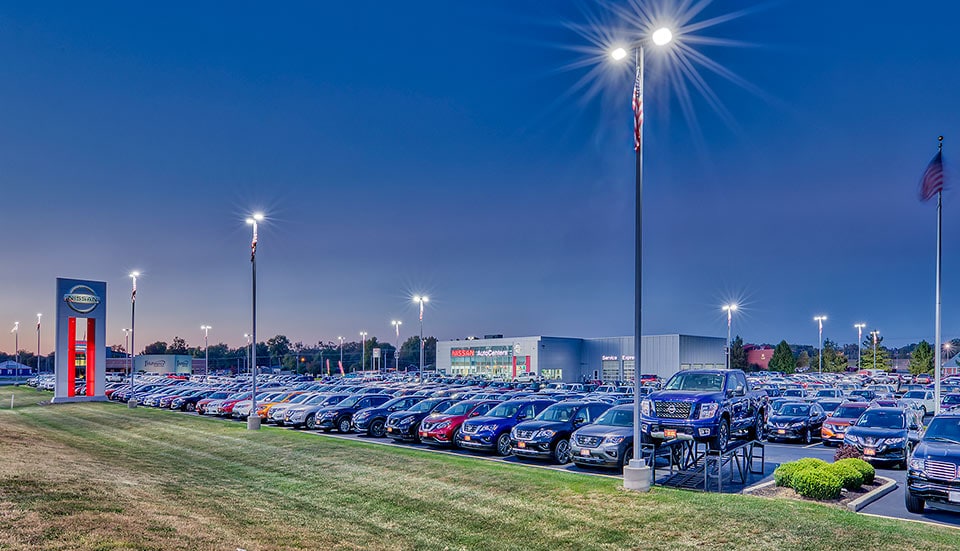 New Nissan Vehicles Available near St. Louis
The Nissan tradition and pedigree of top-quality vehicles goes back more than eight decades, to its founding as an auto parts manufacturer in the early 1930s in Japan. After bringing their first vehicles to the United States under the brand name Datsun in 1958, the company quickly became a recognizable sight on American roads, delivering style, quality, and much more. Things have only gotten better and more versatile since then.
Here in the St. Louis area, the decades-old tradition of delivering what drivers want continues, with the inventory of brand-new Nissan models in stock at our East Edwardsville Road dealership. Nissan is synonymous with craftsmanship and style, and we're proud to present our friends and neighbors with a vast collection of models to choose from. With something to please everyone in our collection, it doesn't matter if you're the heavy-duty pickup truck type of driver or a parent who needs three rows of seating and plenty of cargo space, you'll find exactly what you're looking for in this collection.
Ready to learn more? Take a closer look at some of the great options we currently have available:
Plus, much more. Trust the AutoCenters Nissan team in Wood River to have what you're looking for, and to help you find the perfect vehicle fit for all your needs.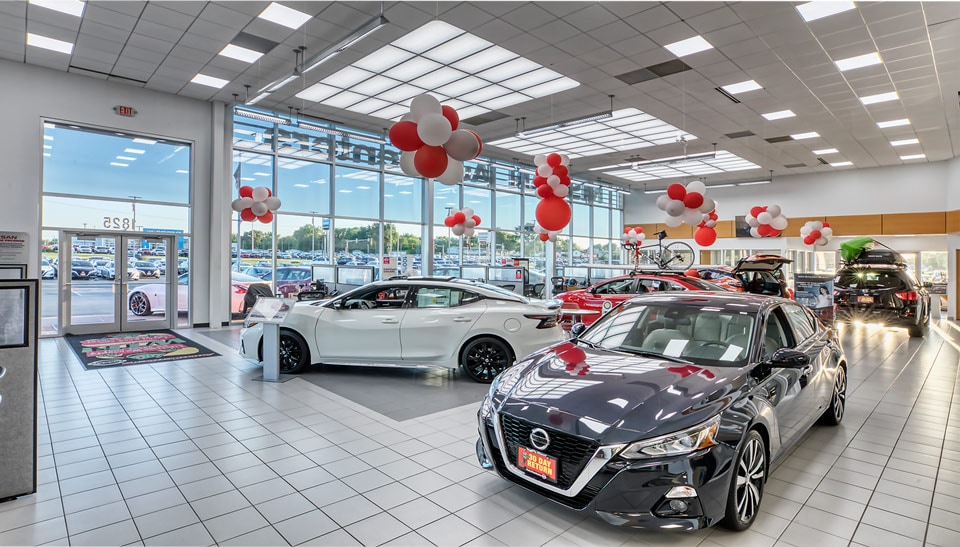 Pre-Owned Vehicles with Value for St. Louis Drivers
A new Nissan is always a great idea and a worthwhile investment. But we understand that many of our customers prefer a pre-owned vehicle and the savings that come with it, and we strive to meet you where you are. Not only can you find a large collection of used versions of many of our popular Nissan models in stock here at our Wood River dealership, you can also find a variety of other makes and models.
Browse our full inventory of currently available used vehicles to learn more, and discover models from some of your favorite brands in stock, such as:
INFINITI
Ram
Subaru
Hyundai
Kia
Lexus
Ford
Chevrolet
Cadillac
Searching for something in particular? Check back often or reach out to our sales team for the latest information on availability. Our collection of used vehicles changes often, and we're committed to helping you secure the best deal for your needs.
Automotive Expertise in a Full-Service, One-Stop, Conveniently Located Dealership Destination
At AutoCenters Nissan, we've proudly served the greater St. Louis area for a long time, delivering a topnotch selection of brand-new and pre-owned vehicles to choose from, and so much more. Need a few more good reasons why visiting us in Wood River makes sense for your next vehicle? Consider these points:
Risk-Free 30-day New Nissan Return Promise
Free Lifetime Powertrain Warranty - All New & Used Vehicles Eligible 
Personalized Customer Incentives, Freebies, & Deals - Just Ask!
0% Interest & $0 Down Options Available
A+ BBB Rating
$100 paid out for all customer referrals - Tell your loved ones, get paid!
Rated 4.5 Stars or higher on Google & Facebook
Successful financing for all credit types with many lenders to choose from
Transparent & Upfront Pricing with the best financing options
Free Vehicle History Report - On All Used Vehicles
Guaranteed Trade Offers  - Done via Text Message Instantly
ASE Certified Union Technicians on staff - Don't trust your car with just anyone!
Free Service Loaner vehicles - Demo a new Nissan while we service your ride!
Dog Friendly/Kid Friendly: Children's play area - We've got you and your important people covered!
AutoCenters Nissan - A Member of Your Community
For an automotive shopping and ownership experience unlike any you've ever had before, working with us is an easy decision. But we want you to know that we're much more than just a dealership. We're also your friends and neighbors, who work and live here just like you, and we want only what's best for our community. That's why we support many local charitable and nonprofit organizations, with our AutoCenters Nissan Gift of Charity Program, which includes a contribution of up to $500 for eligible charities. Learn more about what we do for local organizations through this unprecedented program, by visiting our website or stopping in to see us soon.
We look forward to working with you soon to provide you with a thoughtful, professional vehicle shopping experience and to support the greater St. Louis community in any way we can.
AutoCenters Nissan
1825 E Edwardsville Road
Wood River, IL 62095