2024 Nissan Pathfinder Research Guide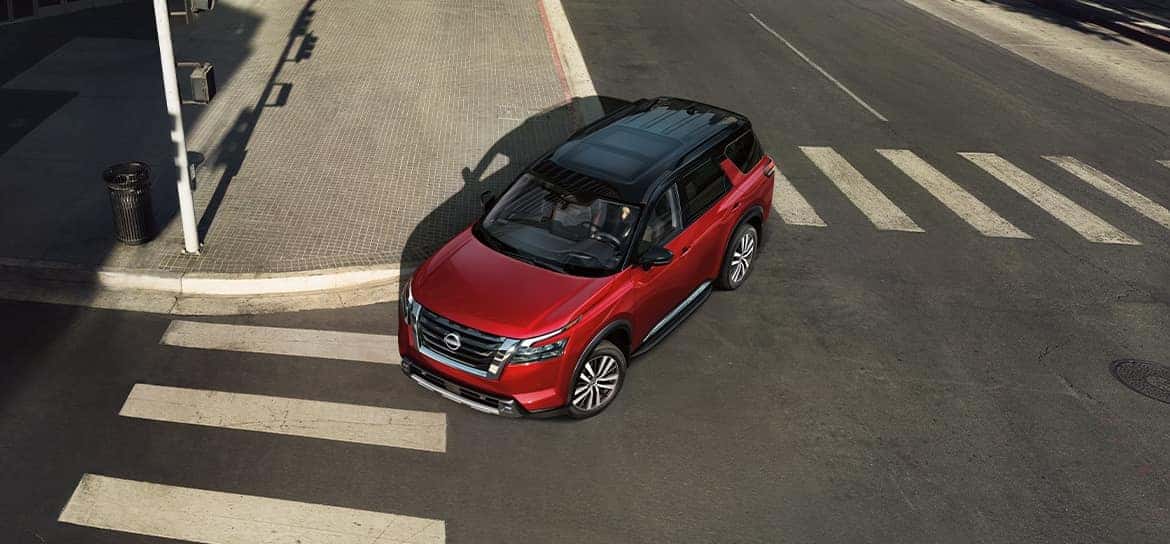 When it comes to making an informed decision about your next vehicle, doing your research is crucial. The 2024
Nissan Pathfinder is a standout option for those seeking a blend of performance, comfort, and cutting-edge
technology. This guide serves as a comprehensive knowledge base, providing you with all the answers you need about
this exceptional SUV.
---
Safety and Driver Assistance Features
When it comes to safety and driver assistance, the 2024 Nissan Pathfinder leaves no stone unturned. While the
official safety ratings are still pending, the vehicle is expected to be equipped with an array of features designed
to keep you and your passengers secure. These include Automatic Emergency Braking, Blind Spot Monitoring, and Lane
Departure Warning.
But the Pathfinder goes beyond standard safety features. It also offers advanced driver assistance technologies like
Adaptive Cruise Control and a 360-Degree Camera System. These features not only contribute to a safer driving
experience but also add an extra layer of comfort and ease, making your journey more enjoyable.
---
---
Interior Space: Cargo and Passenger Comfort
The 2024 Pathfinder is designed with family comfort and cargo space in mind. It offers approximately 16.6 cubic feet
of cargo space, expandable when the rear seats are folded down. The vehicle also provides a 7-seater configuration,
ensuring ample legroom and headroom for all passengers. Whether you're planning a family trip or need extra space
for hauling, the Pathfinder has got you covered.
---
Engine Performance and Fuel Efficiency
When it comes to engine performance, the 2024 Pathfinder is expected to feature a robust 3.5L V6 engine that
delivers 284 horsepower and 259 lb-ft of torque. This powerful engine allows for quick acceleration and a smooth
driving experience. In terms of fuel efficiency, the vehicle is expected to offer around 21 mpg in the city and 27
mpg on the highway, striking a balance between performance and economy.
---
Towing Capacity
The Pathfinder is a towing powerhouse, capable of hauling up to 6,000 pounds. The towing capacity varies
by trim level:
S Trim: Up to 3,500 pounds
SV Trim: Up to 5,000 pounds
SL Trim: Up to 6,000 pounds
Platinum Trim: Up to 6,000 pounds
Whether you're towing a boat for a weekend getaway or hauling equipment, the Pathfinder offers the towing
capabilities you need.
---
Technology and Infotainment
The 2024 Pathfinder is expected to come equipped with a state-of-the-art touchscreen infotainment system that
supports both Apple CarPlay and Android Auto. This advanced system allows for seamless smartphone integration,
providing a connected and entertaining driving experience. Other features include an advanced navigation system and
Bluetooth connectivity for hands-free calls and music streaming.
---
Trim Levels and Cost
The 2024 Pathfinder is expected to be available in various trims, each offering a unique set of features:
S Trim: Basic features with cloth upholstery
SV Trim: Advanced safety features and a larger touchscreen
SL Trim: Premium audio and leather upholstery
Platinum Trim: All available features, including ventilated seats and a panoramic sunroof
The starting price for the 2024 Nissan Pathfinder ranges from about $38,825 to approximately $56,800.
---
---
Accessories and Customization
The 2024 Pathfinder offers a range of optional accessories and special features to elevate your driving experience.
These may include roof racks for extra cargo space, tow hitches for enhanced towing capabilities, and all-weather
floor mats for added durability.
---
Maintenance, Reliability, and Warranty
The Pathfinder is generally considered a low-maintenance vehicle, requiring standard oil changes, tire rotations,
and occasional brake inspections. With proper care, the vehicle is known to exceed 200,000 miles, making it a
reliable long-term investment. The SUV is expected to come with a standard 3-year/36,000-mile limited warranty and a
5-year/60,000-mile powertrain warranty.
---
For the most accurate and up-to-date information, consult the manufacturer or visit AutoCenters Nissan in Herculaneum, MO.
---
* Price is Manufacturer's Suggested Retail Price (MSRP). MSRP excludes tax, title, license, options, and
destination and handling charges. Dealer sets actual price.

Extra cost option.

Intelligent 4×4 cannot prevent collisions or provide enhanced traction in all conditions. Always monitor
traffic and weather conditions.

Towing varies by configuration. See Nissan Towing Guide and Owner's Manual for additional information.
Always secure cargo.

Cargo and load capacity limited by weight and distribution. Always secure cargo. Heavy loading of the
vehicle with cargo, especially on the roof, will affect the handling and stability of the vehicle.

Feature availability is dependent on vehicle model, trim level, packaging and options. Trial included with
vehicle purchase. Compatible connected device and wireless network may be required. Refer to connected
device's owner's manual for details. Late availability for some features.

Driving is serious business and requires your full attention. Only use features and connected devices when
safe and legal to do so. Some features, including automatic crash notification and SOS, are dependent upon
the telematics device being in operative condition, its ability to connect to a wireless network, compatible
wireless network availability, navigation map data and GPS satellite signal receptions, the absence of which
can limit or prevent the ability to reach Customer Care or receive support. GPS mapping may not be detailed
in all areas or reflect current road status. Never program GPS while driving. Only use Remote Engine Start
and Remote Horn features in accordance with any laws, rules or ordinances in effect in your vehicle's
location.

Some services and features are provided by and dependent on third party service providers and not Nissan.
Should service provider terminate or restrict service or features, service or features may be suspended or
terminated without notice or with no liability to Nissan or its partners or agents. Services and features
may require compatible cellular network provided by independent companies not within Nissan or its partners'
or agents' control. Cellular network signal strength may vary and may not be available in all areas or at
all times. Services and features may not function if cellular network is unavailable, restricted, or
terminated. Nissan and its partners or agents are not responsible for associated costs or other third party
changes that may be required for continued operation due to cellular network unavailability, restriction, or
termination (including equipment replacements/upgrades, if available, or roaming charges on alternative
networks). Technology is evolving, and changes by independent companies are not within Nissan's or its
partners' or agents' control.

Enrollment, owner consent, personal identification number (PIN), and subscription agreement may be required
to receive full suite of features and services. Trial periods (if applicable) begin on the date of vehicle
purchase or lease of a new Nissan. Trial periods and feature availability may be subject to change at any
time and may be subject to early termination without notice. Required subscriptions may be sold separately
for each available feature or service after trial period ends, and may continue until you call service
provider to cancel. Installation costs, one-time activation fee, other fees and taxes may apply. Fees and
programming subject to change. Feature may be subject to age restrictions in some areas. Subscriptions
governed by service provider's subscription agreement, terms and conditions and privacy statements available
at service provider's website. Text rates or data usage may apply. NissanConnect with WiFi terms and
conditions of subscriber agreement apply. Included with vehicle purchase 1 GB or 30 Day Trial on equipped
new Nissan vehicles. Once your vehicle has exceeded the coverage parameters of the roadside assistance
benefits included with your vehicle purchase, you will be responsible for any charges incurred by obtaining
roadside assistance for your vehicle. For complete information concerning warranty coverage, conditions and
exclusions, please see your Nissan dealer and read the warranty information booklet.

The Nissan names, logos and slogans are trademarks owned by or licensed to Nissan Motor Co. Ltd. or its
North American subsidiaries. Other trademarks and trade names are those of their respective owners.

For important safety information, system limitations, and additional operating and feature information, see
dealer, owner's manual, or www.NissanUSA.com/connect/legal."

Nissan Safety Shield technologies can't prevent all collisions or warn in all situations. See Owner's Manual
for important safety information.