A Sneak Peek at the Upcoming, 2023 Nissan ARIYA from AutoCenters Nissan
Electric vehicles are all the rage these days, with more and more Affton and O'Fallon area commuters choosing to electrify their daily drives. But while other carmakers are rushing to expand their EV line, Nissan has long been at the forefront, with their groundbreaking Nissan LEAF electric hatchback. Now, Nissan is preparing to expand their EV collection, and the team at AutoCenters Nissan is excited to share the news with you.
Nissan has recently announced that they plan to make 40% of their new-vehicle sales all electric by the year 2030, and the ARIYA is the next step towards fulfilling that promise. It's eye-catching and environmentally friendly, and we have the inside scoop on what to expect.
A Few Things to Know About the 2023 Nissan ARIYA
While the 2023 Nissan ARIYA is still several months away from being released, we have learned a few things about this efficient and stylish model so far that can pique your curiosity. A five-passenger, four-door SUV with cutting-edge electric engineering under the hood, the Ariya promises to deliver the style, spaciousness, and comfort that our Mehlville, MO customers love about SUVs, with the impressive EV performance they crave.
Power & Range
Available as either a front-wheel or all-wheel drive vehicle, the 2023 Nissan ARIYA will be great for commutes of all lengths. It is expected to offer a nice all-electric driving range of 285 - 300 miles, with an output of 238 horsepower and 221 pound-feet of torque for front-wheel drive versions, and up to 389 horsepower and 442 pound-feet of torque with the all-wheel drive version.
Uniquely, the Nissan ARIYA will also feature the signature Nissan e-pedal system. A feature that debuted on the popular Nissan LEAF EV, this pedal allows for a single-pedal driving ability, as it helps you accelerate, decelerate, and stop, all using the single accelerator pedal set up.
Interior Design
Slipping inside the new Nissan ARIYA promises to transport you to another dimension of high-end refinement and craftsmanship. It will have five seats in two rows, with comfy, zero gravity front seats and a sleek dashboard that's comprised of two wide screens on a modern ribbon design of glass.
Behind the second row of seats, drivers can look forward to plenty of cargo space for all their gear. Suitcases, groceries, and more are no problem with 22.8 cubic feet of cargo storage standard, and up to 59.7 cubic feet available simply by folding the backseats down.
In a design twist that you won't see elsewhere, the ARIYA floor is almost completely flat, with an attractive metal trim detail separating the front passenger and front driver's sides. All of this is accented with a high-quality wood trim detail, lending the Nissan ARIYA a modern touch feel to go along with its decidedly modern powertrain and performance.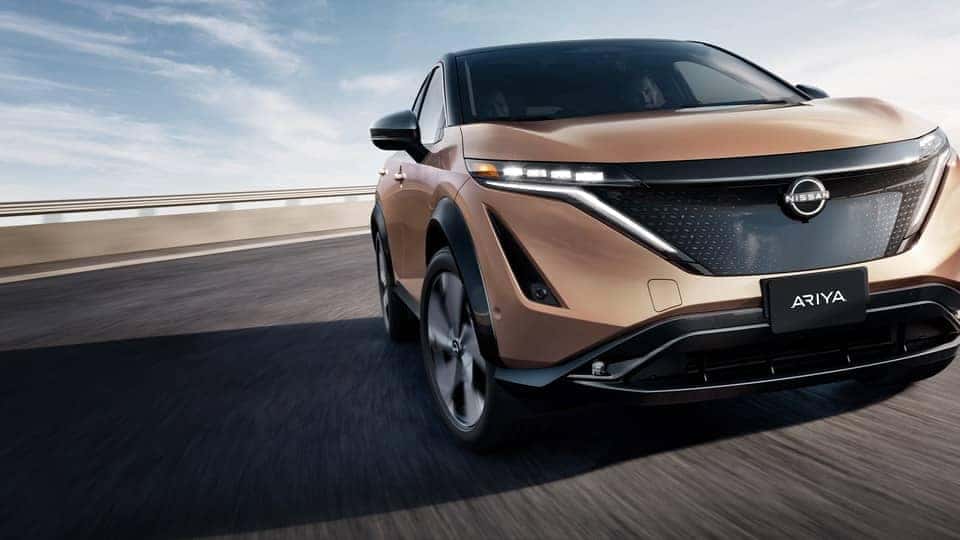 Technology and Features
The new Nissan ARIYA will be groundbreaking in power, and it will also be groundbreaking in features as well. A range of advanced driver's aids and standard safety features are expected, including the signature Nissan Safety Shield 360 suite of safety features. Plus, the new ProPilot 2.0 feature, which includes hands-free driving capability and semi-automated driving tech, will be available.
When it comes to connectivity, all of the tech amenities you expect will be standard here, including Amazon Alexa control, wireless Apple CarPlay integration, and wired Android Auto integration.
Trims and Pricing
Venture+: Starting at $35, 950 MSRP
Evolve+: Starting at $48,950 MSRP
Premier: Starting at $53,450 MSRP
Platinum+: Starting at $58,950 MSRP
Coming Soon to AutoCenters Nissan in Herculaneum
Ready to hear the best part about the upcoming, 2023 Nissan ARIYA? It's that you can pre-order and reserve yours today, with our help. Be the first in line for this exciting model when it finally debuts, or, if you need a new Nissan today and can't wait that long, we invite you research all current Nissan models today and discover the perfect car, SUV, or pickup truck for your needs.