Nissan Rogue Sport vs Nissan Rogue: Which Is Right for Your St Louis Lifestyle?
A few years back, drivers in need of a small compact SUV that could really compete in the market could turn to the Nissan Rogue Select. But, this bargain-buy crossover only lasted for about two production years, and then faded away.
With the arrival of the Nissan Rogue Sport in the St. Louis and Herculaneum areas, shoppers got a new exciting, capable compact crossover option that's smaller than the top-selling Rogue, but still offers plenty of functionality and versatility for your daily life.
Though the Rogue Sport has been on the market for a little while now, there's one question that we continue to hear–and love to hear: "What are the differences between the Rogue and the Rogue Sport?" At a glance, they look pretty similar:
Both have that classic Nissan look and feel
Both are bold and assertive
Both have wide tailgates for easy loading of gear
Both are for sale now near St. Louis
But get a little closer, or swing inside of the cabin, and you'll find dozens of features, designs, and vehicle specs that separate the Rogue from its new, smaller cousin.
We've compiled some research pages to help you learn more about the new Nissan Rogue Sport (find them on the upper right of this page). But, if you're ready to dive into a comparison of this new crossover versus the classic Rogue, read on.

Side By Side Comparison
(Rogue Sport: Orange, Rogue: Red)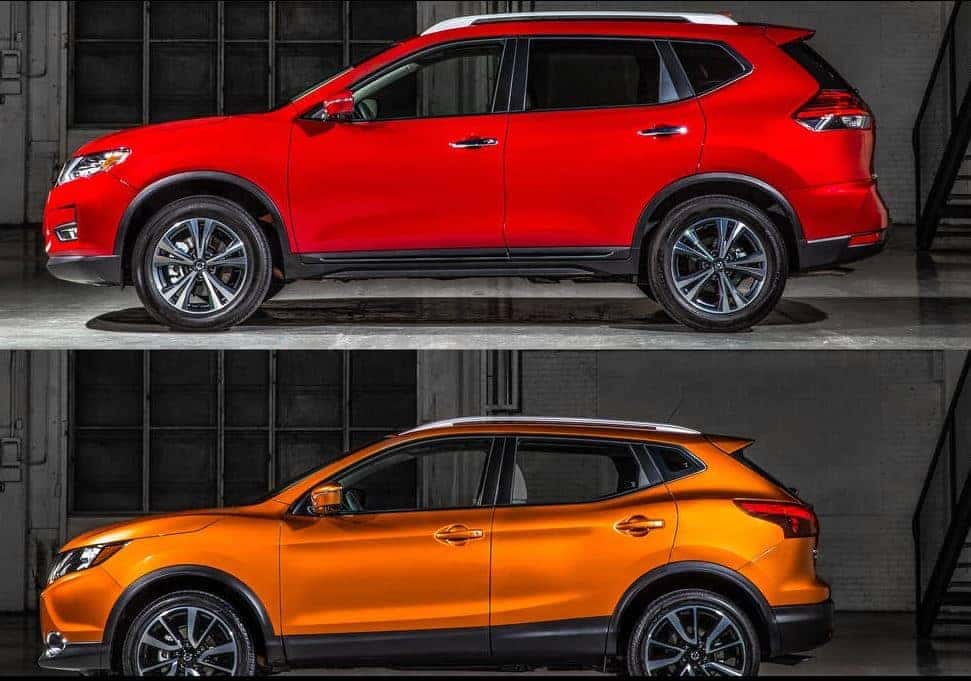 Cost and Value
Because of its larger size, greater range of available equipment, and overall bigger personality, the new Nissan Rogue is more expensive. They both offer great value and classic Nissan quality, but if an ultra-affordable daily driver would be a good fit for your family, the Rogue Sport will cost you less per month if you choose to lease or buy.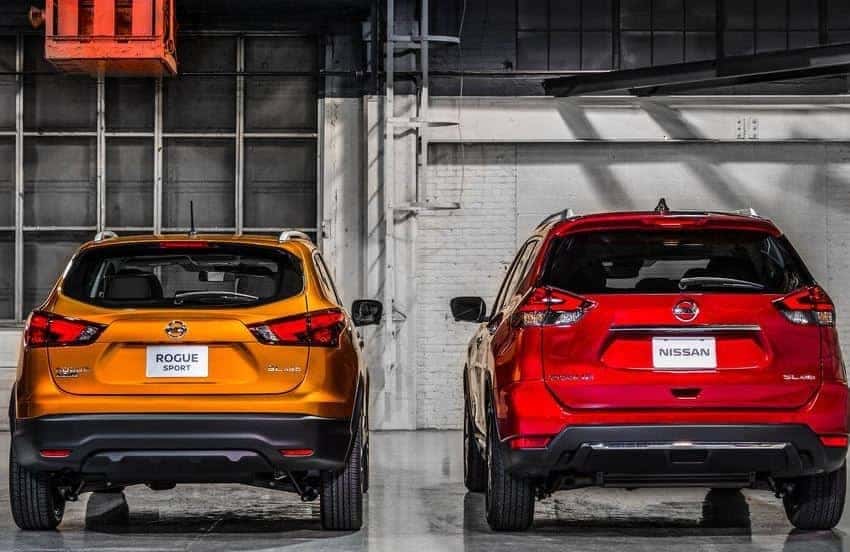 Powertrain and Performance
Since the Rogue Sport is tailored to busy urban drivers, its smaller stature also comes with a smaller engine to deliver better expected fuel efficiency. However, it's also lighter than the classic Rogue, which means that power can still be well-utilized for sporty and fun performance.
The Nissan Rogue offers 170 horsepower and 175 pound-feet of torque from a 2.5-liter four-cylinder engine
The Nissan Rogue offers 141 horsepower and 147 pound-feet of torque from a standard 2.0-liter four-cylinder engine
The Rogue sees up to 33 mpg highway
The Rogue Sport sees up to 32 mpg highway
Both benefit from Nissan's Xtronic CVT (Continuously Variable Transmission)
Both Rogue and Rogue Sport are available with Nissan Intelligent All-Wheel Drive (AWD) for capable and confident driving in bad weather and on rough roads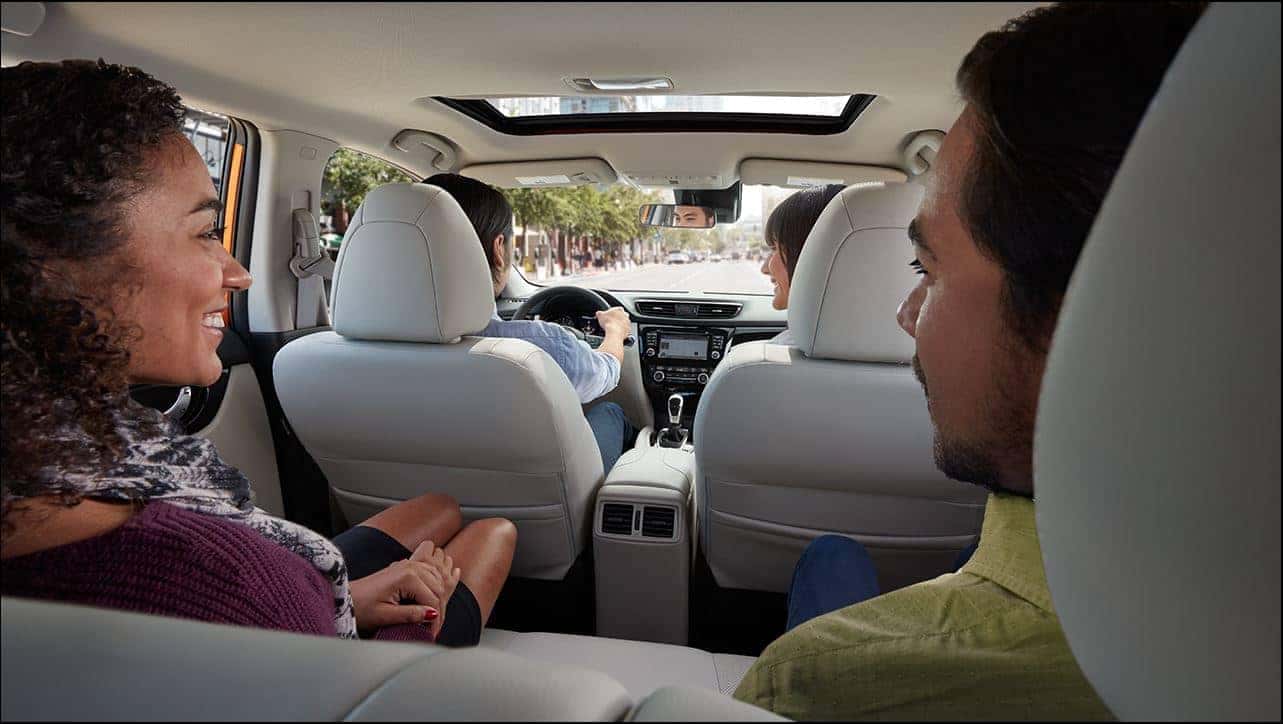 Design and Interior Space
Both of these SUVs have adopted Nissan's "emotional geometry" design language, so from the scoped hood, to the V-motion grille, to the angular headlights, you can notice some distinct similarities in style. But the new Rogue features a larger, bolder front fascia with an aggressive dip in the grille and broader fog lights. The new Rogue Sport's grille is a little bit sleeker and smaller to reflect its more compact stature. The Rogue is longer than the Rogue Sport and wider by only a fraction of an inch–so you won't notice much in vehicle width–but the Rogue is significantly taller than the Rogue Sport: nearly 6 inches separates these two SUVs in height.
The Rogue dropped its available third-row seat for the current model-year, so both SUVs can seat up to five passengers at maximum
Because of the removed third row option, cargo space for the Rogue comes up to 39.9 cubic feet behind the second row, and 70 cubic feet in total
Because of a shorter wheelbase and shorter stature, the Rogue Sport offers 22.9 cubic feet of cargo space behind the second row, and up to 61.1 cubic feet overall
Vehicle widths are nearly identical between the Rogue vs Rogue Sport, so interior comfort for driver and passengers is the same
Features and Technology
Interior hardware, equipment, and technology are largely the same in the Rogue and Rogue Sport, which, if you're hoping for upscale and premium options in your next versatile crossover SUV, is a very good thing. The Rogue Sport borrows many of the conveniences of the classic Rogue–like the Divide-N-Hide® cargo system and an available Around View Monitor–but is built to offer a better overall value with more practical accessories.
The Rogue Sport offers a lot of standard features even on its base model; and gives you choice of a variety of package options
The Rogue is also well-equipped, but will cost you more at every level
The Nissan Rogue offers available Zero Gravity seating; the Rogue Sport does not
Rogue and Rogue Sport both offer safety features and equipment like automatic emergency braking, lane departure warning, and adaptive cruise control–but features are available at lower trims on the Rogue vs the Rogue Sport
Come to AutoCenters Nissan to Test-Drive Both Rogue Flavors
Both the Rogue and the Rogue Sport boast unique benefits, complemented by classic Nissan styling, quality, and fun. Both are available now at our Herculaneum showroom serving the St. Louis area, and we've got a great selection of SUVs for sale to help you find the perfect fit for you.
We encourage you to visit our St. Louis area dealership and test-drive both models to really get a feel for the differences in person.