What is Nissan Connect and How Does It Work?
Automotive technology continues to evolve, and Nissan remains at the forefront, implementing the most advanced tech in its cars, trucks, and SUVs. NissanConnect offers you a suite of innovative systems designed to elevate your Nissan ownership experience. However, we know that new technology is often hard to understand. To help, we had our tech experts review NissanConnect and break down its features and benefits.
What Is NissanConnect?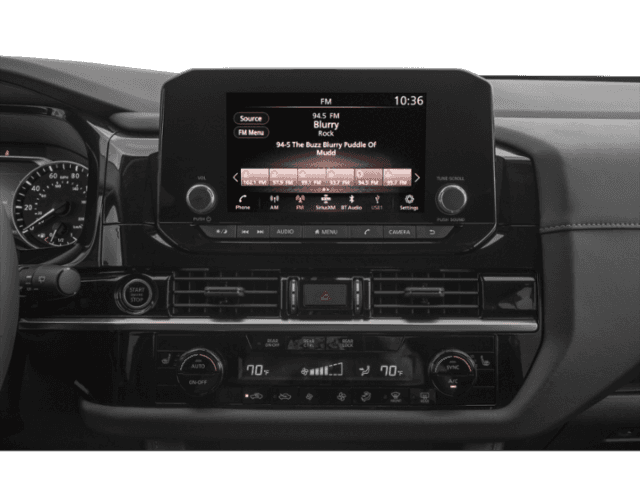 Now you can connect with your Nissan like never before. The various technologies available through multiple NissanConnect plans allow you to take advantage of remote connectivity, whether you want to stream your favorite music from your smartphone or add safety features, such as Automatic Collision Notification services. NissanConnect opens up a world of possibilities.
Built-In NissanConnect
2020 Nissans and later models come with the Built-In NissanConnect plan, and you don't need a subscription. Services include the Bluetooth hands-free phone and streaming audio system. You also get Apple CarPlay and Android Auto pre-loaded. Select models allow you to connect wirelessly with your smartphone or use the USB ports to use your favorite apps, access navigation, and more. Once you sync your cell phone, you can ask Siri or Google to send texts, control your media, make calls, etc.
NissanConnect Services: Wi-Fi Hotspot
Every new Nissan comes with a 30-day free trial of the Wi-Fi hotspot. After the trial period, the plan costs $20 per month. Powered by AT&T, your Wi-Fi hotspot can connect up to seven devices simultaneously. The Wi-Fi hotspot allows you to connect everything, from phones to laptops and even gaming systems.
NissanConnect Services: SiriusXM
Drivers receive a free three-month trial subscription to SiriusXM with every new Nissan, which gives you access to the largest network of radio, sports, news, and talk radio shows. You also get SiriusXM Traffic and Travel Link, providing real-time traffic, weather, and fuel prices to help you commute smarter. With SiriusXM, you can avoid congested areas before you reach them, plan your fueling stops, and even find parking at your destination.
NissanConnect Services: Security Package
You can enjoy six months of the Security Package at no cost. After six months, the subscription costs only $8 per month. The Security Package also comes with Automatic Collision Notification, which automatically connects you to a live response specialist in the event of a collision. If necessary, the response specialist will contact emergency services to come to your aid and reach out to your emergency contact list. They'll also remain on the line with you until help arrives.
NissanConnect Services: Convenience Package
You gain access to a bevy of convenient features with a free six-month trial of the Convenience Package. This package allows you to operate vehicle functions remotely using the app on your smartphone. For example, you can start and stop your engine, lock and unlock doors, receive real-time vehicle updates, and even wipe your vehicle data remotely.
You get helpful navigation assistance with several features, such as destination assistance, destination finder, and journey planner. Once you set your trip details, you can confidently activate the door-to-door navigation and travel. In addition, you can use the app to find your vehicle in crowded, oversized parking lots.
This package also includes concierge services. You can access a live concierge 24/7 to help you book theater tickets and make dinner reservations. You can push the headset button on your NissanConnect display or use the smartphone app to get in touch with the professionally trained concierge team. After your trial period ends, the service costs $8 per month.
NissanConnect Services: Premium Package
The Premium Package costs $12.99 monthly and combines the Convenience and Security Packages.
NissanConnect Services: Select Package
You get a five-year subscription to the Select Package at no cost when you purchase a new Nissan. This package includes the NissanConnect Service Skill with Amazon Alexa and the NissanConnect Service that works with Google Assistant Action. Now you can ask your favorite home assistant to start your Nissan and set your climate control from the comfort of your living room. Simply tell Alexa to start your Rogue SUV, and that's it.
You get all the remote connectivity services described above and receive vehicle notifications and alerts. For example, you get vehicle health reports and maintenance alerts and can schedule maintenance through the app. In addition, you can access in-vehicle messaging and update your system over your Wi-Fi network. Travel services with the Select Package include Street View, Satellite View, and Destinations by Google.
NissanConnect Services: Plus Package
The Plus Package adds Connected Search that helps you find food, gas, hotels, etc., along your route. A Map Care program automatically updates your navigation system's maps to ensure the most accurate navigation possible. Premium Traffic also comes with this package, which automatically updates traffic conditions every two minutes to help you take the best route every time. In addition, you get weather reports from TomTom, so you know when you need to take your umbrella.
NissanConnect for Nissan Leaf Models
Now Nissan offers the NissanConnect suite of technology for the Nissan Leaf. You can access all the remote capabilities in the standard suite, plus additional features tailored to the Leaf. The Leaf offers impressive driving dynamics and zero carbon emissions as an electric vehicle. However, this electric powertrain relies on a lithium-ion battery and electric motor to propel it. Therefore, you'll need to recharge it.
With NissanConnect, you can view your current charge, calculate your driving range, and plan your recharge stops from the app. You can also schedule and start a recharge remotely from your smartphone.
NissanConnect Service Enrollment
First, create a MyNISSAN Owner Portal account if you haven't already. Then, simply download the NissanConnect Service app to your smartphone and log in with your MyNISSAN Owner Portal account credentials.
Explore NissanConnect Services Today
If you're ready to elevate your Nissan ownership experience to new heights, consider enrolling in NissanConnect Service today. At AutoCenters Nissan, our tech specialists can show you how the systems operate in a one-on-one demonstration. They will walk you through the different programs and answer any questions you might have. You can schedule a visit online or stop by our Herculaneum dealership in St. Louis, Missouri, anytime.