The Nissan Versa is Redesigned and Perfect for Your Commute
Whether you're a longtime fan of the Nissan Versa sedan, or you're just discovering this affordable and stylish model, the version is an eye-opening experience that you've got to see to believe. It's completely redesigned from previous years, with the model introducing us to the third-generation Versa, and it's completely unrecognizable compared to previous years.
The Nissan Versa - Versatile Options and Affordable Price
With a starting price around $15,080, the Versa is accessible to a wide variety of new-car budgets in the St. Louis area. A highly dependable and wallet-friendly sedan, there are three great trim levels for this car, each of which is attractive, well-built, and equipped with an incredible assortment of cutting-edge features for safety and comfort.
Plus, with our expert finance center on your side, getting behind the wheel of a brand-new Nissan Versa has never been easier. We have hard-to-beat specials and unique offers for students, and we help St. Louis drivers from across the area get the car they need, regardless of their history with credit.
Nissan Versa Power, Performance, and Trim Levels
With an estimated 40 mpg on the highway, the Nissan Versa is an ideal commuting car, whether you head to an office every day, shuttle kids to soccer practice, or commute on campus at one of our local colleges or universities.
Every Nissan Versa has a 1.6-liter four-cylinder engine under its hood. This efficient system is rated for 122 horsepower and 114 pound-feet of torque and it comes exclusively with front-wheel drive.
When it comes to customizing the Versa for your St. Louis drives, there are three flavors of trims available. Every one of the trims has a great roster of standard amenities, with more added as you move around trims. Plus, there's an optional package that can be ordered to customize the top trim if you still want more. Trim options for this year include:
Nissan Versa S Manual and Automatic: Starting at $15,180
Nissan Versa SV: Starting at $17,990
Nissan Versa SR: Starting at $18,590
Outstanding Standard and Available Features for the Nissan Versa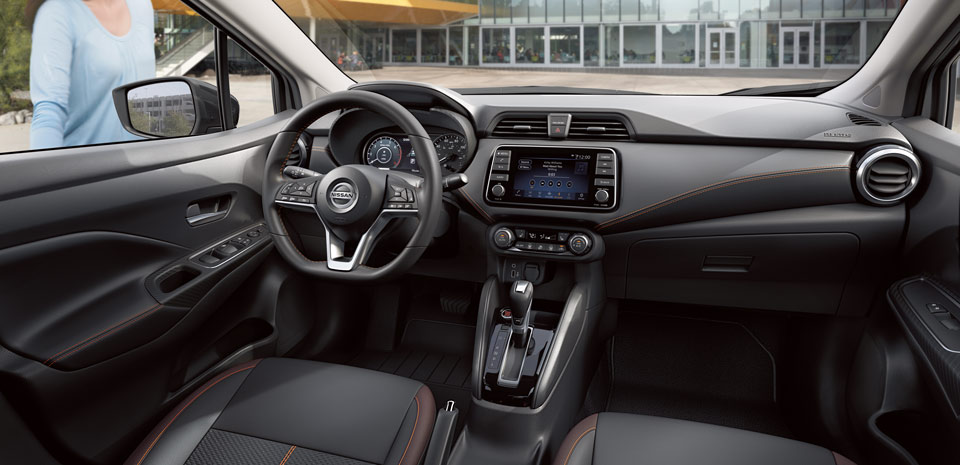 With the redesign, the Nissan Versa takes on more innovative and cutting-edge features than ever before. In fact, it has more available tech than many other cars in its class. These include both safety features to protect you and your passengers and creature comfort amenities that pamper you. Some are standard, while some are optional, but all of them add up to produce a car that has all your needs and wants met.
A few of our favorite highlights from the menu of features include:
Automatic emergency braking in both the front and the rear, standard on all trims
Rearview camera, standard
Automatic headlights standard on all models
Touchscreen and Bluetooth technology, standard across all models
Blind-spot monitor, standard starting at the mid-level Versa SV
Apple CarPlay and Android Auto, at the SV level and up
Remote engine start system, standard for the top SR trim
Heated front seats, optional for the top SR trim
Adaptive cruise control, optional for the SR trim level