When the time comes for St. Louis area residents to choose a new vehicle, there are a number of decisions to make. But there is a bigger question that not everyone gives proper consideration: will you buy or lease? Both have their own advantages and disadvantages, but you may find that a different method of financing than you have been using is more fitting for your lifestyle. Give us a call at 866-796-8835 for more information about leasing & buying.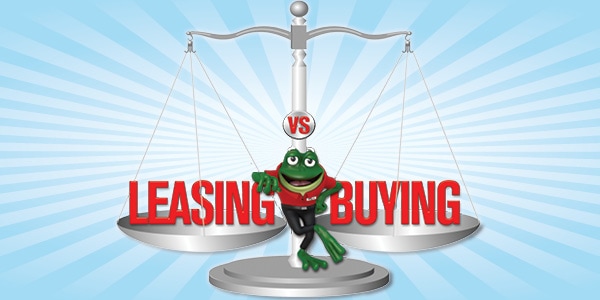 The Case for Leasing
A big reason many people choose to lease is that they can get a much better car for less. When you choose to lease, you are making payments only on the difference between the sticker price and the expected value after the lease's end, rather than the entirety of the car's worth. Essentially, you are only paying for what you use. This means lessees can drive the latest models they couldn't afford in other circumstances.
Some lease deal benefits include:
Lower monthly payments and down payments
Frees up budget for better quality vehicles
Allows for a new model every lease period (typically three years)
No worries about depreciation
No hassle at lease end; simply drop the vehicle off
Generally all repairs are covered by warranty
New Nissan Incentives
However, leasing can include expensive fees when drivers try to terminate the lease early, go over mileage limits, or fail to maintain the vehicle properly. A series of leases over time can add up to more than the full price of a single vehicle, which leads other people to chose to purchase.
The Case for Buying
Some St. Louis area drivers prefer the many benefits of ownership. When a purchaser finishes making payments, the driver owns the car, while someone who leases does not. Which means you don't need to treat your vehicle with the overcautious restraint you'd give to something only on loan. Feel free to take it on a road trip or install a new aftermarket stereo, and not worry if you get muddy paw prints or cleats on the upholstery. Owning a vehicle means you can have fun with it.
Some benefits of purchasing include:
No mileage limits
No extra fees for ordinary wear and tear
Long use means easy recoup of cost
Complete customization authority
Can sell or trade-in the vehicle whenever you'd like (even if you are still making payments)
However, purchasing your car outright means a greater financial commitment. The monthly payments and initial down payment will be much higher, you will be responsible for all maintenance and repair costs, and if you don't plan on driving your vehicle until it quits, you will face high depreciation on the value of your financial investment, which leads some people to lease.
Whichever way you choose to go, the team at AutoCenters Nissan is prepared to help you find the very best deal with our guaranteed financing for St. Louis, MO area residents.  Give us a call at 866-796-8835 or fill out our online form to get in touch with a member of AutoCenters Nissan today!