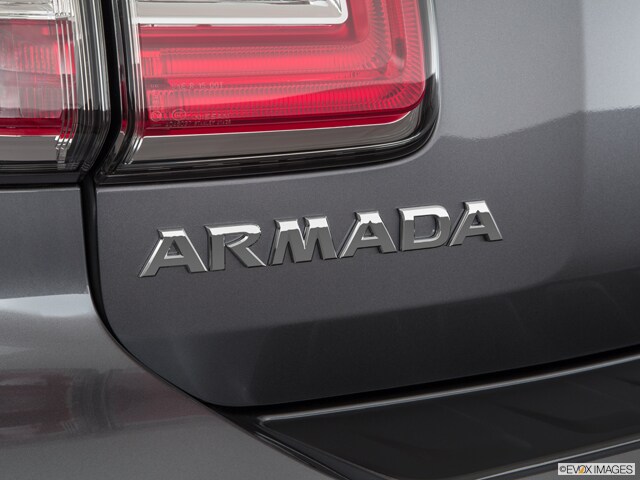 The Platinum Reserve trim is all-new for the 2018 Nissan Armada--and, as the name may suggest, it's not cheap.
The package costs around $3,000 to add to the classic Platinum model, with the equipped Armada Platinum Reserve trim starting at a tidy $62,190.
But, for the massive array of features that you get, it's well worth the price tag for St. Louis-area drivers who want to get the most out of their three-row SUV, but who don't want to pay the added premium of buying a luxury-brand SUV.
Platinum Reserve package on the 2018 Armada
This package/trim has exclusive exterior detailing that makes it really stand out from its siblings in the Armada lineup. A Dark Chrome exterior trim adds smoky styling to the door handles, the mirror, and the sizeable grille, and is complemented nicely by 20-inch Dark Chrome wheels.
Since it sits at the top of the trim-level range, the Platinum Reserve offers all the same features that you'll find outside of lower-trim Armada SUVs, as well.
2018 Armada Platinum Reserve interior features
Look inside, and be prepared to stare. The stunning Platinum Reserve option takes the well-equipped and comfortable cabin of the Platinum model--including heated and cooled front seats, and adds Black Quartz and premium wood tone interior trim, two-tone leather-appointed seats with contrast stitching, and exclusive Platinum Reserve badging and embossed details.
It's the most luxurious Nissan SUV, and its features and options put it on par with luxury-brand rivals like the Mercedes-Benz GLS, Lincoln Navigator, and INFINITI QX80--all of which start at well over the price of the top Armada trim.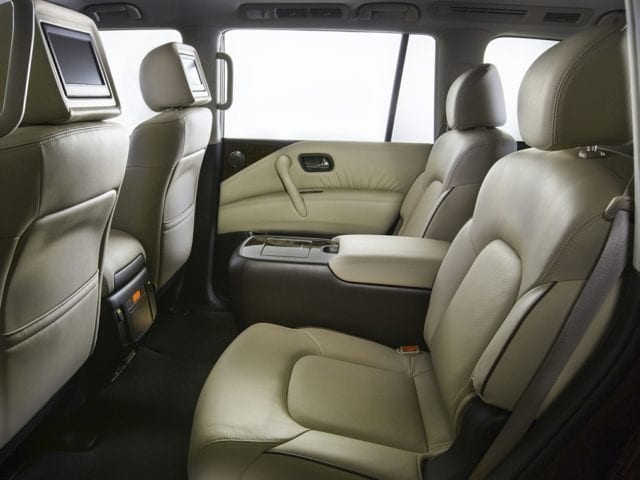 Tech features on Armada Platinum and Platinum Reserve SUVs
This smart new three-row premium SUV offers a huge list of tech and driver-assistance features, including a Tri-Zone Entertainment System with dual 8" monitors and Intelligent Cruise Control (auto-follow and adaptive control features).
But, the coolest new tech feature in the new 2018 Armada Platinum Reserve is Nissan's all-new Intelligent Rear View Mirror.
This innovative mirror gives you the option of displaying as a conventional mirror, showing you exactly what's behind you from the windshield--or, of displaying through a LCD screen that connects to a small camera located at the rear of the vehicle. The Intelligent Rear View Mirror gives you a clear view of what's behind you even if your back seats or cargo areas are fully loaded and compromising visibility.
Explore the new 2018 Nissan Armada Platinum Reserve near St. Louis, today at AutoCenters Nissan.